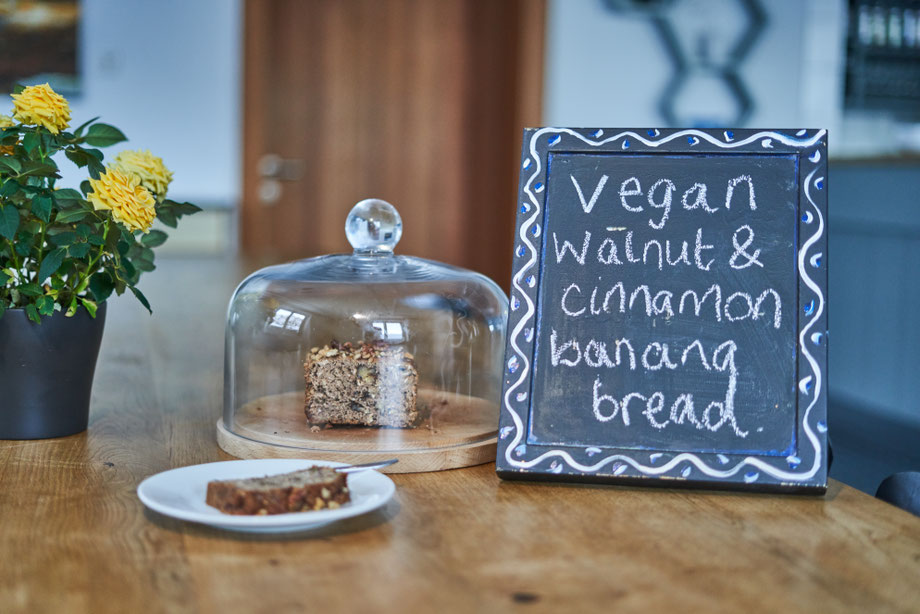 After popular demand we have put together our classic MoaAlm Vegan Banana Bread recipe, and to get you started we're adding our 3 favourite variations below. Encouraging your inner baker to create and experiment to your hearts content.  The best part? this base recipe stays the same no matter which flavour you prefer! The 3 variations listed below can be completely adapted,  feel free to add more nuts and seeds for an extra crunch, or up the berries and spices to satisfy your sweet tooth! Banana bread is a classic, this quick treat is simple, satisfying and with an innovative twist - an absolute crowd pleaser! 
As well as being so flavourful and delicious, baking with this versatile fruit is our favourite way to use up those bananas that have turned too brown or mushy for a packed lunch. 
THE BASE:
Wet Ingredients:
4 medium or 3 large very ripe bananas
2 tablespoon ground flax seed (plant-based egg replacement once mixed with liquid)
1/3 cup plant-based milk of your choice
1/3 cup melted coconut oil
2 tablespoon maple syrup or honey
Dry Ingredients:
1/2 cup rolled oats (use gluten free oats if preferable)
1 teaspoon baking soda
1/2 teaspoon baking powder
1/2 teaspoon salt
1 + 1/2 cup flour (we love white spelt)
Toppings:depending on your choice of flavour save an extra handful of nuts/seeds/berries/sliced banana 
METHOD:
1. preheat your oven to 175 & grease a loaf tin with coconut oil
2. mash bananas in a mixing bowl with a fork and then stir all the WET ingredients list together well.
3. In a separate mixing bowl, combine all the DRY ingredients list together.
4. Pour the dry ingredients into your wet ingredients bowl bit by bit and keep mixing until you reach a dough like consistency.
5. Spoon your dough into the loaf tin and decorate the top - slightly pushing your chosen ingredients into the surface.
6. Bake loaf for 45-55 minutes until golden and firm
7, Resist tjhe urge to devour your creation straight away, it is well worth the wait placing it onto a cooling rack and leaving for at least half an hour. 
TOP TIP: Once your loaf has cooled, slice into portions and pop into the freezer! This recipe can be frozen for up to 3 months (yes that means you can eat banana bread EVERYDAY - homemade, guilt free, nutritious snacking for the win!!)
FLAVOURS:
Cinnamon & Walnut
Sip a cup of coffee and eat it for breakfast, or serve a slice toasted with butter or honey!!! 
HOW TO:
-Add 1 tablespoon of ground cinnamon powder to your DRY ingredients bowl and mix well.
-Add 1 cup of walnuts when combining the 2 mixing bowls together
Chocolate Chip & Peanut Butter
 A gooey, sweet creation you don't want to miss out on.
HOW TO: 
- Stir in 2-3 tablespoons of your favourite nut butter into your WET ingredients bowl!
- Add 1 cup of vegan chocolate chips into your DRY ingredients before combining everything together. 
Berry & Almond 
Sweet, nutty and soft. Simply delicious. 
- Add 1 cup of fresh or frozen berries (blueberries and raspberries are our top picks) into the WET mix
- Followed by 1 cup of flaked almonds when combining the 2 bowls together. 
- For an extra drop of magic, try adding 1/2 a teaspoon of almond extract into your WET mixture!
Enjoy!!!
Ps. we would love to see your creations so please feel free to share your results with us! Either via email or using the hashtag #moaalmkitchen