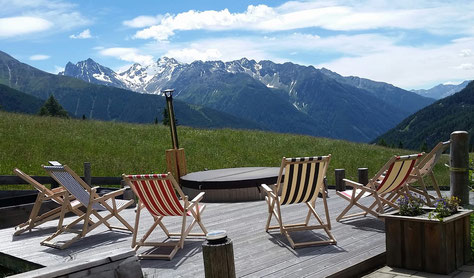 At MoaAlm we strive to make as little impact on the environment as possible. Read on for a few of the measures we take to minimise our footprint on this beautiful planet:
Heating System
Our boiler system for the central heating is extremely efficient, using only sustainable wooden pellets as fuel and producing very little waste. The thickly insulated walls, newly installed loft insulation and triple-glazed windows in most of the house ensure that we don't even need the radiators on all the time during the winter months to stay warm and cosy! We encourage guests to be conscious about how they use the lighting and heating in their rooms, and to turn off lights and heating when they head out for their daily adventures. 
Solar Panels
Our hot water is heated primarily by our solar panels. Only when there are a lot of consecutive grey or rainy days do we need to rely on the boiler system as a back-up.
Hot Tub
There is nothing better than having a relaxing soak in our hot tub... especially as we avoid the use of chlorine and other chemicals, and keep it clean through a natural salt cleaning system. We use Epsom Salts and Dead Sea salt, full of magnesium and especially beneficial for tired legs at the end of a long day of hiking in the Austrian Alps. The hot tub is log-fired, so is only heated by burning sustainable firewood that we source from one of the farmers in the local village. It takes us a few hours to light and heat the hot tub, but it's always worth the wait, and somehow much more satisfying than just switching on a button!
Suppliers
The growing season is very short up here at MoaAlm as we are at 1800 metre altitude, but our hiking guide Martin is also very handy in the garden, and has managed to grow a bountiful garden of fresh herbs, chard and lettuce to supplement our tea obsession and provide some of our daily greens. We cook with organic and locally-sourced food where possible. Likewise, we try to get all our other supplies from nearby, independent businesses. You can read more about our food sources on our recent blog, Good Food.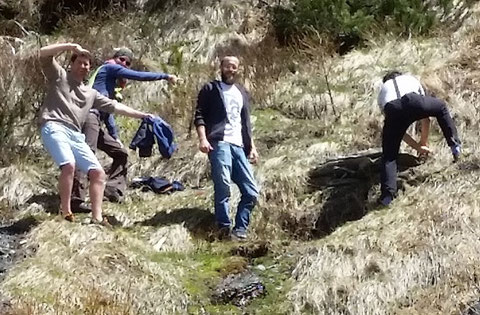 Water Supply
We have our own water supply that comes to us directly from a natural spring the mountain side. This means that we don't have to worry about transporting water up to MoaAlm through a pump system or by vehicle... it also tastes incredible, as it comes directly from Grossglockner Glacier and is filtered by nature! Our guests often say it's the purest water they ever tasted. 
Waste Management
We are lucky that there is a fantastic recycling service provided by our local community. We make the most of this service to reduce the amount of landfill that we produce and also try to limit our use of single-use plastics on a day-to-day basis, using glass jars and buying ingredients in bulk. Upstairs in the guest living area we provide a mini recycling station, and we have this in every main area of the house to streamline the recycling and reusing process. We have a large composting system outside for food waste, but in general not much food goes to waste around here… it's too tasty!
Cleaning Products, Bed Linen & Towels
We do all of our own cleaning and washing of bed linen and towels. We try to minimise our use of harsh detergents and chemicals in the cleaning process and where we do have to use them, we choose washing detergents that are ecologically friendly. We dry most of our laundry on the washing line outside in the sunshine during the summer season, and our yoga room doubles as a drying room in the winter months. Guests are encouraged to use the same towel for the duration of their stay to help us reduce the number of washing loads that we put on! 
We believe that if we can all take baby steps to a more sustainable and eco-conscious lifestyle within the realms of daily life - such as reusing our towels and napkins, air drying linen, reusing and recycling, we can reduce our impact on the natural environment we love so much, and in doing so, improve our quality of life and health here at MoaAlm. We're always looking for ways to make our lifestyle and business more eco-conscious, so if you have any tips for us, get in touch.