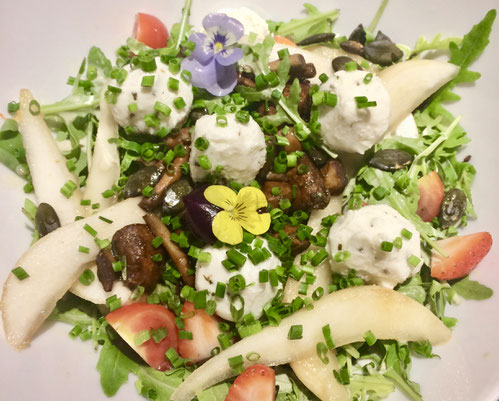 At MoaAlm we strive to make as little impact on the environment as possible. We've taken the time to write about where our food comes from... we hope you're not hungry!
Food is a huge part of the MoaAlm experience and something we pride ourselves on - our ability to create wholesome (and delicious) vegetarian meals unlike anything else in this region... and to do it by sourcing ingredients from local or Austrian, organic suppliers.  
One of our favourite entrees this summer by chef Kirsty has been organic beetroot with goats cheese, roasted hazelnuts and rocket from the garden. The goat's cheese we use is sourced from our local mountain goat farm, Figerhof, just a five minute drive from MoaAlm. We order from them based on demand, and love that we know exactly where it's coming from!
In the theme of dairy products (a staple in Austrian cuisine), most of our milk and cheese comes from Tirol Milch, an Austrian owned company who take a lot of pride in sourcing the best dairy products in Tirol from a variety of farmers. The milk collection service in Tirol is unique and incomparable with any other Austrian province in the complexity of its structure. There are almost 2000 places throughout the province where Tirolean farmers gather fresh milk and provide it for daily collection. Alpine pastures, farms and local collection points are where Tirol Milch milk tanker drivers pick up the best raw material for delivery to the dairy. We feel good about serving dairy products to our guests that come from Austrian farms and family-owned businesses. 
The majority of our fruit and vegetables comes from a company called BioGast, Austria's largest specialist wholesaler of controlled organic food. We receive a delivery every week with certified organic fresh fruit and vegetables - some from Austria, some from further afield in Europe and some from overseas... but where possible, we choose fruits and vegetables that are in season and that don't need to travel too far to our plates (and our bellies!). Eating with the seasons helps us to stay connected to our environment, eat the freshest foods, and know that we are receiving the nutrients we need based on the weather and time of year. We see and feel the change of seasons so vividly here at MoaAlm, surrounded by the mountains, the national park and farming community; so to eat in alignment with mother nature is important to us, and therefore also our guests!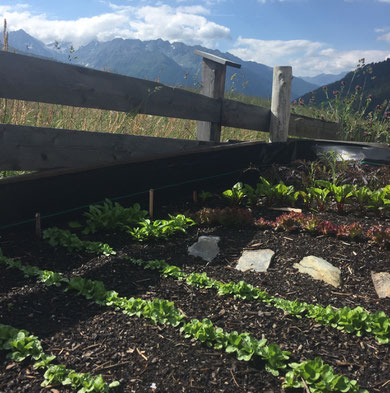 This summer our hiking guide, Martin, has revealed a passion for gardening and a "green thumb", managing to grow some incredible greenery at the challenging altitude of 1800 metres above sea level. With a lot of love and patience, Martin has created a small bed of greens which supply us with salad greens for evening meals, including chard, rocket, lettuce leaves and several varieties of mint for desserts and fresh mint tea.
In winter time these plants will most likely go into hibernation under a metre of snow, hopefully to re-emerge next spring when the weather starts to warm up. There's something very satisfying about making tea with herbs from your own garden!
The majority of our spices and all of our tea comes from an inspiring organic Austrian company called Sonnentor. We love their philosophy;
"we firmly believe that the best recipes for a beautiful and long life are in nature. We work for that. We live on it. And we believe that organic agriculture is the only alternative to the consequences of monoculture and overproduction. The cycle, the always recurring, the constantly renewing life is our basic principle. Just as life and life, mutual recognition and appreciation for a long-term togetherness are essential. Everything has to be in balance for the joy to grow."
A philosophy we agree with wholeheartedly... and an independent company we are happy to support! Enjoy the Sonnentor spices in our evening meals, and their tea range all day long - we have a tea station upstairs on the guest accommodation floor, and tea  is always available to our guests at the bar in the living room for some post-yoga or post-hike refreshment! 
And for after dinner… would you truly experience Austria if you didn't try some local Schnapps?! We source our Schnapps range and our breakfast apple juice from an Austrian company called Kuenz Naturbrennerei, alongside our favourite local alpine gin and whiskey, Roter Turm and Rauchkofel. Kuenz produces over 40 varieties of schnapps in small copper kettles, made from fruit sourced from their in-house gardens... and we have a good selection of these on offer at MoaAlm for a warming aperitif!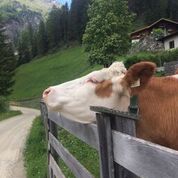 Come and visit us in the Austrian Alps for a MoaAlm adventure and enjoy organic, locally & regionally sourced produce after a day of yoga and hiking at our dinner table, alongside new friends.
Visit www.moaalm.com for prices and availability. 
Cheers - or as we say in Austria, "Gesundheit!"