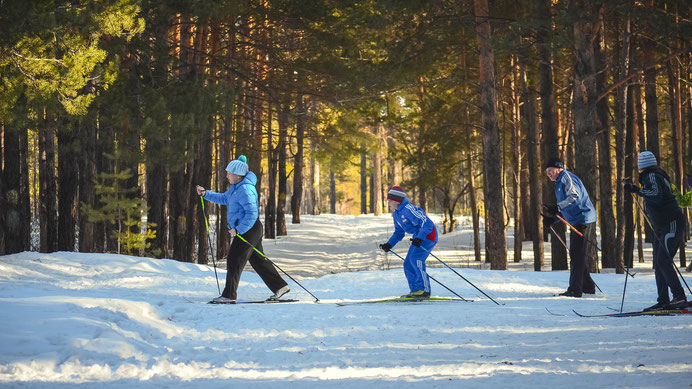 Watch the sun rise from behind the mountains, either during an early morning yoga session, or getting ready for a hike.
There are so many activities to do that aren't just skiing when surrounded by snow, sun and a unique range of peaks and slopes.
These are the winter activities you must try that are not skiing…
Tour in Snowshoes
Regardless of experience, strap on some snowshoes and take a walk around the beautiful Austrian Alps that surround us.
With views that'll take your breath away whilst walking through the vast mountain range, no ski lifts, just admiring the natural unspoilt beauty.
It doesn't matter how young or experienced you are, every walk will reveal something unique and memorable. We have people of all ages eager to put on snowshoes, eager to see what else new they can see and explore.
Get Your Hiking Boots On!
If snowshoes aren't your thing, you can always go hiking; heading along the multitude of footpaths available in the Hohe Tauern National Park, going solo or with a group.
It all depends on what you want to do and when… if there is a day when you feel like chilling out, there is always the option of just taking in the local sights and sounds whilst relaxing in one of the village bars with a nice, warming  cup of Gluhwein!
Cross Country Skiing
If a hike isn't the path you want to choose, there's always cross-country skiing.
Spoilt for choice with kilometres worth of trails, both for beginners and for advanced visitors, you can see the peaks and ranges while gliding across the snow... There are no lines, no lifts, and no stress!
Whilst travelling around you'll come across a plethora of local sights and interests around every corner, all unique and memorable… and when it comes to the local food, totally delicious!
We love to share these experiences with you and is what makes our job so rewarding - and with us to take care of you, what makes your holiday with us so 'relaxingly active' for you.
Beat Your Friends on the Toboggan!
If you want to pick up the pace and feel the wind in your face, take a Rodel (the local term for a toboggan) and speed down the Rodel Track from MoaAlm.
Don't worry about getting back to the top of the hill again if you don't feel like hiking up… we will bring you back up to MoaAlm in our Land Rover, and provide you with a nice slice of cake and a hot drink to welcome you back!
It doesn't matter how experienced you are with skis, or how old you feel, you can still toboggan your way down, laughing all the way.
Something that the whole family can always get behind.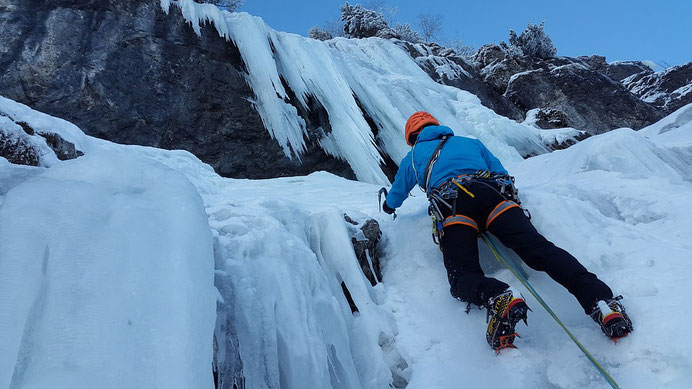 Ice Climbing
Instead of speeding downwards, if you fancy a more controlled vertical experience, Ice climbing is the one for you.
Select the challenge you want to get your heart pumping, and we'll help you achieve it. It makes the relaxing afterwards all the more rewarding!
Ice Skating
Slightly less extreme, but this activity is perfect if you fancy a breath of fresh alpine air away from the slopes. It can also be extremely funny if someone's on their backside all the time.
You can even take in the stunning surroundings of the Alps at the same time.  
Find Your Inner Peace with Yoga
It's time to take a break and take care of your body and mind.
Although, yoga studios offer countless ways of immersing yourself into this ancient practise, they won't give you snowy mountains, refreshing clean air or the peacefulness of being based at the end of a snow-covered road! Yoga at MoaAlm is so peaceful that you will be able to really focus on your session with no distractions.
It doesn't matter if it's your first time or hundredth time, classes are always tailored to individual needs!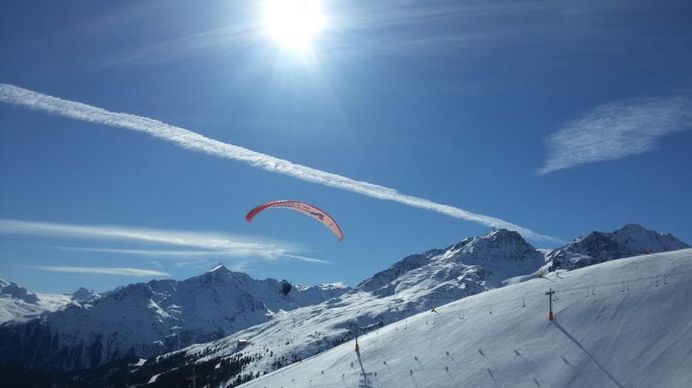 Paragliding
Calling all adrenaline junkies! Make your way down the mountains in style. Paragliding lets you soar above the mountains and gives you a memorable experience of flying. You'll be attached to an instructor who will do all the manoeuvring while you have all the fun!
So now you know all the exciting winter activities you can do, it's time to book your holiday.
There are various options for how to reach MoaAlm, including shared shuttle buses, car hire and public transport… if you want to take away any responsibility from yourself as soon as you reach the airport and avoid any waiting around though, then a service called Alps2Alps offer private transfers from Salzburg, Innsbruck or Munich airports to us in Kals am Grossglockner; making your journey run as smoothly and quickly as possible… this means that you can get into the action as quickly as possible! Book your transfer and embark on one of the holidays of a lifetime