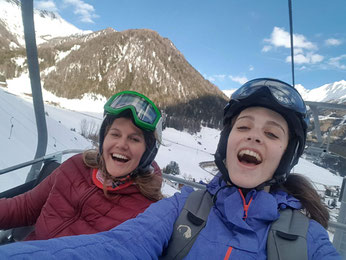 Some say it's like riding a bike, but if you grew up in a warm climate and a tendency to camping holidays rather than ski trips, then skiing might not be something that comes naturally to you in your adult life.
I personally had been skiing a few times as a child, once a year occasionally with a school trip, and once with my German exchange host partner at age 16, who took me up to the top of a snowy mountain, gave me a push, and promptly disappeared down the slopes, leaving behind her a poof of powder and no encouragement.
I stood there, slightly stunned, at the prospect of having to make my way back down the mountain on these two slippery sticks attached to my feet, and actually no idea where to go.
Needless to say, I did the bum shuffle for most of the way down, then spent the better part of the afternoon eating chips in the cafe, resolved "never to ski again!" - an unfortunate introduction to the sport, and one that scarred me slightly when it comes to snow activities!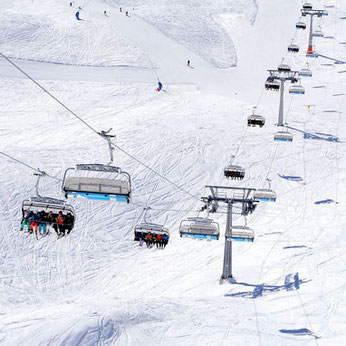 Fast forward ten years and I accept a job as yoga teacher at a Mountain Retreat in the Austrian Alps, where among the things to do are snowshoe hiking, cross country skiing or downhill skiing. I figured, I may never again have such an opportunity to actually practice skiing on a regular basis, and I may even get to a point of expertise where I ENJOY IT. So I threw myself into it, my first day traipsing up and down on the drag lift and beginner slopes, remembering the discomfort of ski boots but finding the exhilaration of downhill speed somewhat addictive. And slowly over time my confidence has increased to the point where I can comfortably ski down some of the more challenging slopes, and not feel the urge to just sit down in the middle of the piste and throw a tantrum. A big help for me has been skiing with other people who encourage me to step out of my comfort zone and try the things that I otherwise wouldn't push myself to do.
I still have the idea in my head that everyone else out there is much better than me, but it has been wonderful learning to ski in a resort that is friendly to all levels, has plenty of options for beginner - intermediate skiers, and some excellent restaurants and après-ski bars for warming your toes and your tummy. My intention has never been to be the best at skiing, but to get to a point where I feel comfortable and confident going down a slope of my choosing, and I couldn't have chosen a better place to learn than during my time at MoaAlm Mountain Retreat.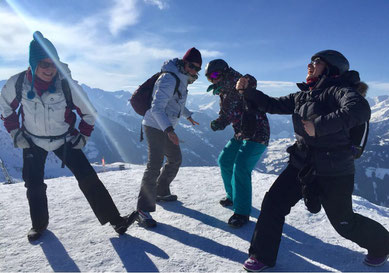 If you are an adult who never quite got around to skiing as a child, and you have a slight fear of being thrown into a "ski school" situation with 5 year olds who run laps around you, but you'd love to learn…. Join us on our upcoming "Adult's Learn to Ski Week" this March 17-24 and learn how to ski with style and finesse (or at least without wearing out the seat of your pants!).
Start the day with yoga to stretch out your muscles, a wholesome hearty breakfast, spend the day on the slopes with other grown-ass adults just like you, and finish the day with a warming glühwein and a slab of cake. We promise you'll end the week feeling much more confidence on the slopes… and maybe even a newly-discovered inner adrenaline-junkie!
Find out more on our website by CLICKING HERE... see you on the slopes!