---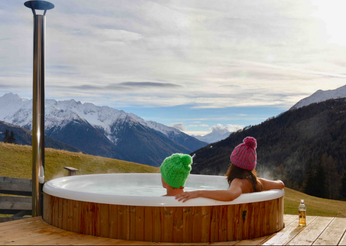 In case you have read about our Yoga and Ayurveda Detox weeks and are wondering what they are actually like, read on for what one of last year's participants had to say about it on her blog when she got home...
"After practicing yoga for 5 years, in January this year I headed off to the Austrian Alps on my first yoga retreat. It wasn't the easiest location to get to, very much off the tourist route, but that is what appealed. Hidden away in a secluded retreat house at MoaAlm I and the other five participants there were able to face those burdens we'd been suppressing in a safe and held space.
The beauty of this particular retreat was that it wasn't purely focused on the magic of yoga. We went walking in the mountains each morning after breakfast. We had theory classes on Ayurveda, we meditated and discussed and practiced different yoga styles, dynamic in the mornings and restorative in the evenings. We ate each meal together at a big tables, we went sledging and there was a hit tub outside. It wasn't just focused on spiritual development and healing, we also had a lot of fun.
Going to a new place creates an opportunity to see the world, and yourself, in a new light. Experiencing the unknown is an accelerated way to grow and learn and when you have extended free time, it's a lot easier to meditate. The Wi-Fi wasn't great up in the bedrooms so at night instead of scrolling through social media you just went to sleep, being abroad meant I had no roaming so away from the retreat house the only thing my phone was useful for was to take photos. Detaching yourself from the world is a wonderful thing, it encourages you to be more present and engage with your surroundings.
Being on a retreat allows you to listen to your body, rest when you need it, and be free from stress and it takes courage to go away somewhere with a group of people (in my case a group of strangers some of which I am still in touch with now) and be vulnerable. The minute you sign up for the yoga retreat, your life starts to change. You have taken the first step in doing something just for you and I know that I don't often do things just for me. There is something powerful about allowing yourself to take that time away from your day-to-day life, to be among a group of like-minded people, eating amazing food, journaling and allowing yourself to see the world with new eyes. They are a brilliant way to start the process of breaking free of old patterns, releasing limitations, letting go of fear and stepping into the space of courage and new possibilities. They allow you to go deeper into your yoga practice so that you can find space in your body that will allow you to connect with new opportunities in your life.
I came home a week later rested, nourished and with a clear head. I was able to then sit and rethink my purpose in life, my why and what I want to achieve in my time on this Earth. I also improved my relationships with those close to me because I was less angry with the world and myself.
Sometimes running away for five days is just the thing to do, it gives you the space to just be you, to feel and to just simply breathe again."
Many thanks to Emilie for writing this post on her blog - we are so thrilled that you enjoyed the week and wanted to share your experience with others.
If you are reading this and think you would like to try a slice of what Emilie had last year, then be sure to read more about what the Yoga and Ayurveda Detox Retreat entails on our website. Please click here to visit the info page or send an email to austria@wearactive.com for more information.