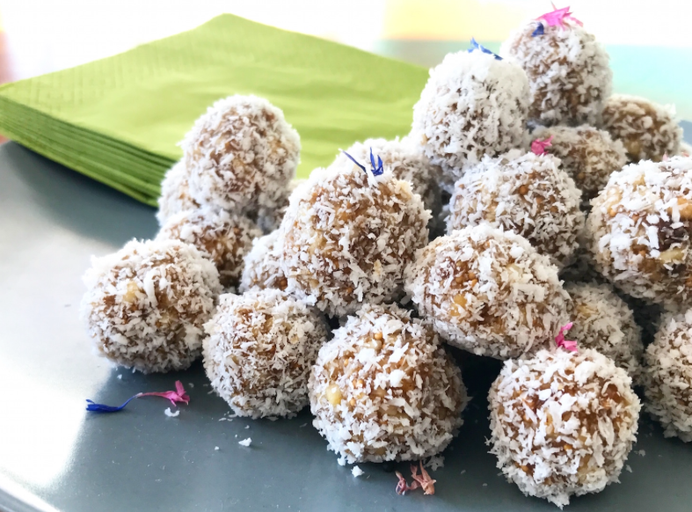 After a night that involved 'slightly' more Schnapps than agrees with us, we decided to try out some tasty detoxifying treats that we leaned about during one of our Yoga & Ayurveda Detox Retreats at MoaAlm...
These delicious energy balls are from the last time Daniela, our Ayurveda coach, visited MoaAlm and are packed full of all the goodness we need to get us on the straight and narrow.
Read on for the recipe... and if you would like to join us for a week of detoxing, hiking and yoga be sure to investigate the details of our holidays here. 
How to make Ayurveda Energy Balls:
You will need...
150 g dried figs
150 peeled almonds  
Cardamom powder
1-2 tablespoon rose water
2 tablespoon coconut oil (or almond oil)
Coconut flakes
Next steps...
Grind the almonds in a food processor and set aside

Grind the figs in a food processor and mix with the almonds

If the coconut oil is not liquid, gently heat it until it is

Season with cardamom and the rose water and add the coconut oil or almond oil; mix well

By now you should have a nice paste and be able to form small balls out of the mixture

With wet hands, press and form small round balls and roll them in coconut flakes

Let dry for at least one hour
We hope you enjoy these and suggest you do so with a lovely cup of freshly brewed spiced chai. If you'd like to try this delicious combo and detox alongside us at MoaAlm, as well as learn more about Ayurvedic cooking and lifestyle, then please send us an email and we can let you know all of the details: austria@wearactive.com. 

---