Discovering mindfulness in the pristine wilderness of East Tyrol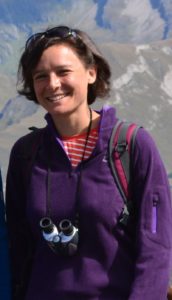 Claire Thompson, author of two books and a 'Mindfulness in Nature' coach,  spent a week at MoaAlm on a 'mindfulness, yoga and hiking' holiday a couple of years ago; she felt that the combination of a comfortable home-stay amidst a landscape of wild nature in the Hohe Tauern National Park would provide the ideal setting to explore mindfulness.
Following her time at MoaAlm, Claire wrote a wonderful article for us about her experience. Please read on for an excerpt of what Claire wrote; a beautiful account showing how being here in the mountains of East Tyrol can enhance one's practice of mindfulness.
Since writing the below, Claire returned to MoaAlm to teach a Mindfulness in Nature course here and we are very much looking forward to welcoming her back again in June 2018 for another week of her insights... come and join us and in the meantime, read on for Claire's story:
"…Being mindful whilst sitting on my meditation cushion in the yoga studio was pretty challenging, but when our Hiking guides at MoaAlm led us on a hike through the Dofer valley on our second day, mindfulness was inevitable.
"As we set off along the path through the dramatic canyon, I felt the bracing fresh air on my face. I listened to the crashing river. I looked up at impressive, rugged cliffs both towering above us and plunging down below us into the valley. On top of them, trees covered in lichens subtly infused the air with the fresh scent of the pines. Small, bright pink flowers and a spongy layer of moss grew alongside the path. Crystal clear water was continuously trickling out of the cracks of almost every rock-face around us and waterfalls higher up on the mountain side cascaded down towards us. The clouds were casting ever-changing gigantic shadows across the landscape.  "Two Golden Eagles overhead!" exclaimed Barbara.  The raptors circled in the distance as the guardians of the valley. The whole canyon was just exuding life.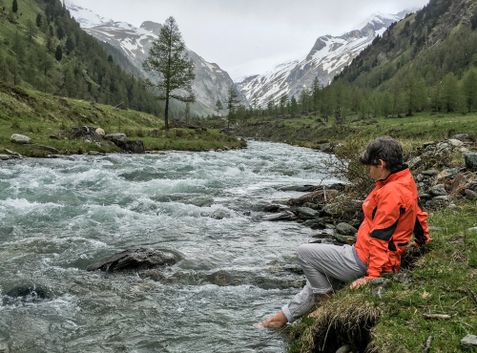 "Walking there effortlessly took me out of my thoughts and into contact with my senses, which simply burst into awareness. I felt so deeply invigorated by the incredible, vital energy which radiated in Dofertal. Hohe Tauern National Park was the perfect place to remind us that we are part of nature and have our deepest origins in the natural world. I felt an essential sense of belonging there; it was as if my senses were whispering "This is your real home". 
"Do you ever see marmots here?" I ask Hubert, one of my hosts.  Before he has a chance to respond, a mournful high-pitched hybrid of a scream and a whistle emerges in the distance and echoes across the valley. "Over there, on that rock!" Hubert exclaims.  A small furry head rises above a tuft of grass as the marmot sits up nervously on its hind legs. Whilst I begin to take photos, Hubert interrupts, pointing to the sky:  "Golden Eagle!". Immediately overhead, the magnificent bird soars high on outspread wings. I reach for my binoculars. Neither of us can quite believe our eyes: it's carrying a marmot in its talons! The regal, breath-taking bird had just snatched one off the mountain side. We begin to settle down after the excitement as we watch them disappear down the valley. But as we set off, a distant silhouette appears at the summit of the mountain ahead of us: it's a Chamois. I feel intensely alive. Alpine wildlife encounters don't get much better than this..."
Claire graduated from the University of Cambridge in 2008 with a B.A. in Natural Sciences, Zoology; since then, she has dedicated her career to the protection of our natural world and has explored mindfulness, meditation and yoga continuously through reading and participation in many courses.
Claire runs her own mindfulness of nature workshops and courses in the UK for a variety of different audiences with the aim of reconnecting people with themselves and the natural world. We are thrilled to be welcoming Claire back to MoaAlm in June 2018, when she will be running one of her courses here. If you would like to find out more about the course or how you could join in, please click here to read more information – or send us an email at austria@wearactive.com.