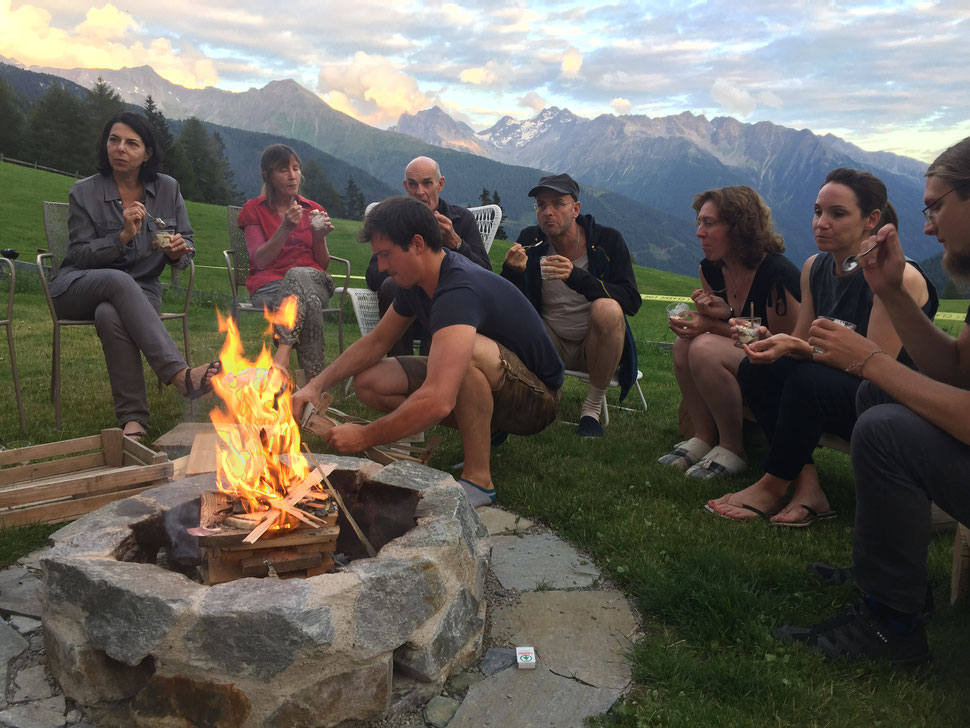 You know it is the perfect outdoor evening when the sky is turning multi-color, you find yourself sitting side by side with new friends, you are eating a delicious homemade tiramisu and you can stare into the flames of a fire. For the views, new friends and tiramisu you would probably have to visit us in Austria. The fire, on the other hand, can be arranged right in your own backyard! All good things come in 7. Just follow these 7 simple steps, find some fire wood, light it up and enjoy... 
Step 1: Go shopping in nature (or in a DIY store)
Put on water proof boots, bring a very large backpack and find a rocky mountain stream. On your 'shopping' list should be rocks with a relatively flat surface and a equal height. You might be in the stream for a while, so bring a flask with hot tea to keep you going. Once (or should I say 'if') you have found all the rocks you need they will probably not fit in your backpack and if they do the backpack would be too heavy to carry. So, leave the rocks behind and praise yourself for trying. Dry your boots and head to the nearest DIY store to buy some nice looking bricks. You also need heat-proof cement, a bucket and something to mix and apply the cement. 
Step 2: Create the location
Visit us at MoaAlm, take a picture of the views and order a life-sized print. Since your backyard might not be blessed with views like these, you can hang the print you just ordered somewhere in your garden. Make sure the location of your future fire pit is far enough from the print, your house and any thing else that burns.
Step 3: Draw the perfect circle
Put a stick in the ground, attach a piece of rope with a small stick attached to the end. Use the small stick to 'draw' a circle: the longer the rope the bigger the circle, obviously. You could also try heart- star- or MoaAlm-shaped pits, but a circle is supposed to have some positive effect on the fire and, more importantly, it's easier to dance around a circle!
Step 4: Dig a hole or don't dig a hole
Hubert dug a hole for our fire pit, most people who posted photo's of their fire pits online dug holes but I don't know why. Our hole just seems to fill up with water whenever it rains, so maybe don't dig a hole...
Step 5: Be a builder
Lay out your rocks on your perfect circle drawing. To save yourself some frustration, try to puzzle the rocks together before putting cement on them. Leave some space in between the rocks for air and make it all look pretty. This process takes longer then you think. Therefore, make sure you have food, beverages and friends to comment on your progress while you are working!  
Step 6: Be patient
Let the cement dry out before you light your first fire. In the meantime you can admire your new view (the one on the print that is hanging in your garden), preparing the deserts that you will eat around your fire and deciding on the music you will play while dancing around your fire.
Step 7: Throw a party
Invite all you friends, serve the deserts you have been preparing, play the music you decided on and dance around your perfectly shaped round fire pit!
Disclaimer: the author of this 7 step plan was more involved in preparing the food and beverages, dancing around the unfinished fire pit and commenting on the building progress than in the actual building process. For more details on how to actually build a fire pit, please send Hubert an email at austria@wearactive.com.